Dreams and Realities
An Interview with Uruguayan Graphic Designer Daiana Pipek
Even though Uruguayan designers have to overcome a few challenges on a daily basis, it seems Uruguay is a great place to live and work as a creative professional. To acquire more information about this South American country and its design scene, I asked Uruguayan graphic designer Daiana Pipek.
Every child is dreaming about her/his future profession, but, of course, the desired outcome changes a lot along the way. When and why did you decide to become a graphic designer?
When I was a little girl, I thought I was going to be an architect one day. As I grew older, I found myself drawing immensely, and I was really good at it. At the age of 18, I realized what graphic design was, and I felt it was really for me. That was the time when I decided on my future path and didn't hesitate to sign up at the university to study graphic design.
You've studied graphic design at the Universidad ORT Uruguay. Please briefly talk about the programme. What are its advantages and/or disadvantages?
ORT University is an excellent university in Uruguay, and it offers a large variety of subjects. Some of them are compulsory, and there are others you can choose among depending on which direction you would like to continue your studies.
Looking at your portfolio and becoming familiar a few brands you have worked for, I'd assume that Uruguay has a lively creative scene including design as well. So I'm wondering what we all should know about the country design-wise. What are the characteristics of Uruguayan design?
Despite being a small country with only three million inhabitants, design and other art forms in Uruguay are receiving more and more attention. Thanks to the constantly growing interest, designers have managed to earn respect and importance in recent years.
What position do you think Uruguayan design holds in the context of South America and in the world?
Uruguayan designers are fantastic! We follow closely what happens around us in the world to keep up with the dynamic as much as possible, and we are very open-minded when it comes to design.
What do you think the biggest challenges and greatest opportunities designers in the region have?
Luckily, the design field is really growing in the country. Being a designer gives you a lot of opportunities in the world, since you can be working from your office in Uruguay for clients living on the other side of the planet. The biggest obstacle designers facing in Uruguay is the lack of machinery at printing houses. This limits us in terms of techniques sometimes.
You've worked at Hyundai Motor, so you've been able to gain experience in a corporate environment, too. What have you learnt there?
When I started working at Hyundai, there was still not an established marketing department. At the beginning there were just the two of us, a brand manager and I as a designer. That was definitely a huge challenge we had to take on. Thanks to this, we were able to gain a lot experience in designing new concepts, and, in the end, the company's performance was getting better and better.
Do you think it is important or helpful for a designer to work for a company for a while to perform better as a designer?
I think it's necessary, because in this way you are really able to understand the responsibility you have when designing. It also helps you realise what you are really good at, learn how to be better as well as to work with others in a team.
You've designed identity for many brands that aims at contributing to a healthier lifestyle, or upcoming fashion brands. How do you select among potential clients whether you want to work with them or not?
I am very open-minded, and I love design and its versatility. So working on several different subjects generates new dynamic all the time. Knowing that I am capable of covering different areas, and doing it as well as I can make me proud. Luckily, brands keep hiring me, which I consider a very positive reaction to my work.
I'd say your approach to design is quite minimalistic. Your ideas are executed in a simple and smart way using a limited number of colours. What is the design process usually like?
I don't follow a defined process. I usually meet the client and begin to familiarize myself with the brand, the story and what they want to transmit. Ideas, colours and shapes flood through my head right away. I start with sketches of shapes, typographic elements, games of colours, and whatever it comes first to my mind connected to that brand. After some feedback received from the client the work is done. I like to convey messages simply and sensibly.
You've designed the identity of two architecture studios named Habitar Arquitectura and LIMINAL Arquitectura. How did these projects come alive?
Both studios talked to me about their work philosophy. I can really say that it's easier to join an already established concept by a piece of design that creating something from scratch. The graphic design is a reflection of their identity as architects and their works.
In the case of a few projects, you've also shown your talent in drawing icons. What do you think it makes an icon a good one?
There are several types of icons, but what I think matters more, is the connection with the context. They are not independent of the aesthetics you incorporate them. Therefore, you have to consider every detail.
What project of yours are you the proudest of, and why?
I have two favourite projects. The first one is Casa Dulce, because I graduated from ORT University with this project. It allowed me to generate graphic pieces for a food store, which is my favourite type of clients along with fashion brands. My second favourite project it the Rotunda catalogues. Rotunda is an Uruguayan fashion brand, which became very important in the country during a very short period of time. It's a real honour to work with them.
What project of yours was the most challenging, and why?
I would say the most challenging type of work would definitely be to design books due to their heavy content. You also have to be ingenious to have a style to not repeat the same design over and over again.
What would be your dream project?
To continue working for big fashion brands, generating content, catalogues, campaigns, etc. Beyond that, I would like to be able to create the identity for a coffee shop: creating the brand from zero, from the logo through the packaging to social networks and the graphic design for the interior.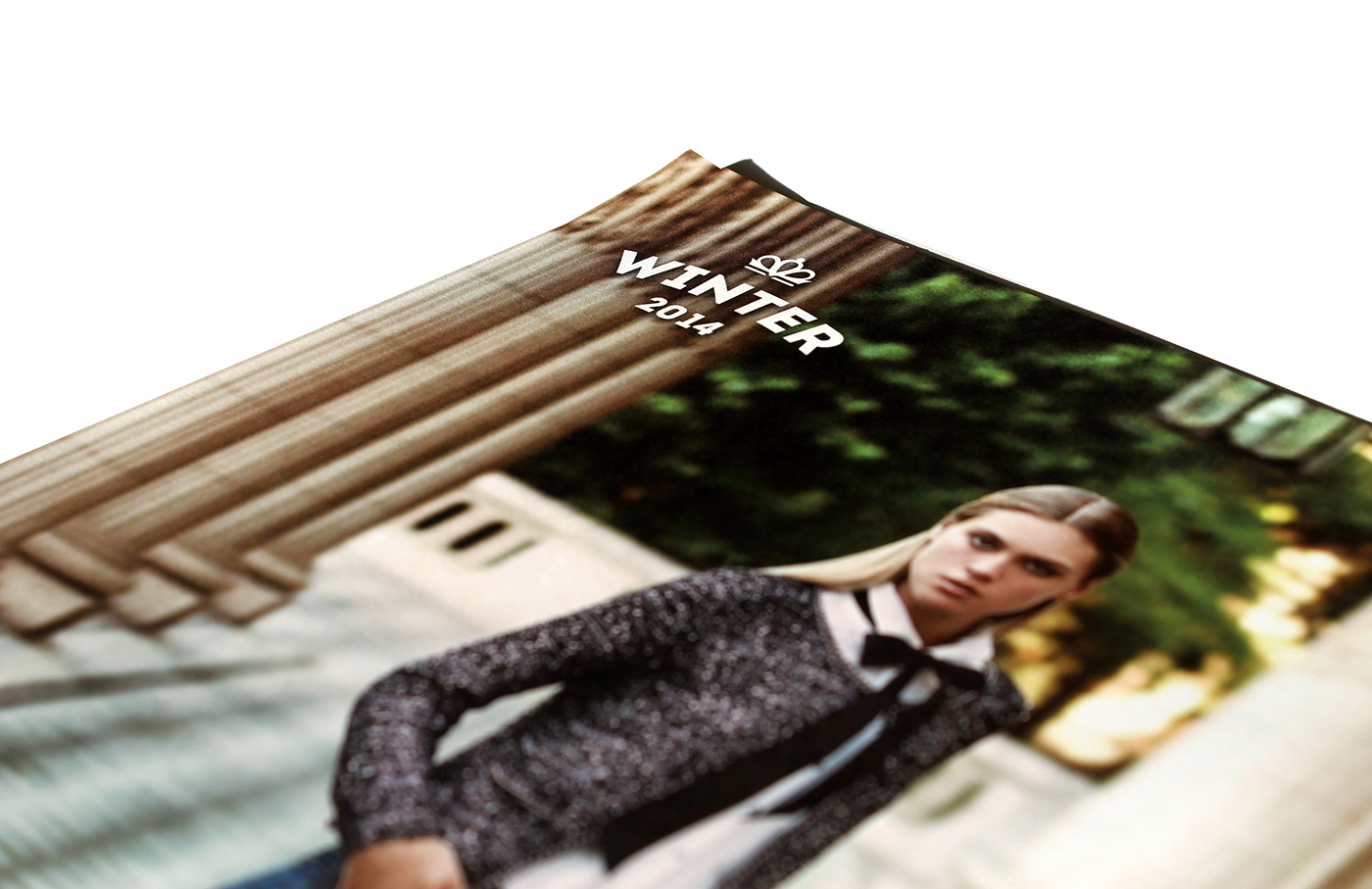 What are you currently working?
I'm employed by a company and also do freelance work. Right now I'm working on a new Uruguayan project on swimwear and underwear. I'm totally in love with it!